Client Success Story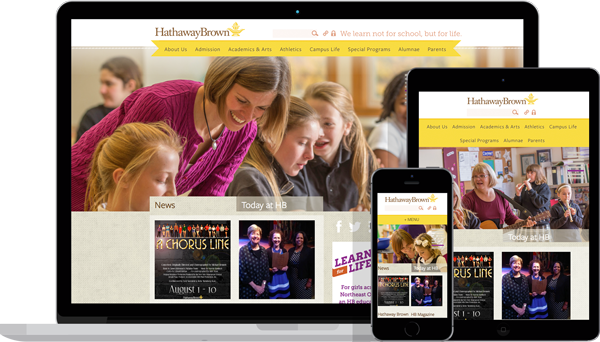 As a Finalsite client since 2008, Hathaway Brown was well versed in the Finalsite product. With a website that incorporated a full suite of community portals and modules such as athletics, calendars, forms and commerce, HB's website created and interactive and engaging experience for students, staff and parents. With the right tools already in place, it was time to refresh and remimagine how their site looked.
Finalsite's deployment and creative teams worked with HB to implement a responsive design that brings the school's culture to life. The vertical scrolling home page creates a dynamic and easy-to-navigate experience. Large photos and colorful click-through banners help site visitors quickly find the content relevant to them, without needing to sort through text-heavy content. A purple social media drop-down tab on every page on the site helps to create a uniform feel, and makes it easy for site users to quickly navigate from the school's main site to it's social media pages.
With a responsive design, beautiful design treatments that echo the school's colors and a content-rich homepage, their new site creates an engaging experience for all site visitors regardless of device they use (smartphone, tablet or desktop).