Launching a new website often brings panic, stress, enthusiasm, pride, deadlines and so much more! Join us for this webinar as we speak first hand with a busy international school who managed to launch their new website in a timely fashion.
During this webinar we will learn from Kristi Williams, Executive Director of Strategic Programs, and Lori Foster, Finalsite Client Success Manager on how they worked together on this website redesign project.
TOPICS INCLUDE:
What was the driving factor behind their redesign?
What was their vision for their design?
Who was involved and how much time did it take?
What lessons can you share with other schools?
What are some tips on deploying a website with Finalsite?
ABOUT KRISTI WILLIAMS


As the Executive Director of Strategic Programs, Kristi l

eads communication operations, community relations and advancement at ICS Addis Ababa. She joined the team in

2014 bringing years of experience in marketing, branding and communications. Before joining ICS Addis, Kristi worked as a Brand Marketing Consultant at the Ethiopian Agricultural Transformation Agency to shape and define the future of the learning business.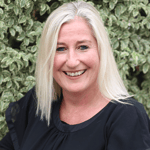 ABOUT LORI FOSTER


Lori works with schools to help them maximize the use of the Finalsite Platform and is based in London. For several years she helped clients through the deployment process as a project manager and she recently moved into Client Success working with international schools around the world.