Not all websites look alike! In this webinar, the International School of Brussels will share the story behind their recent groundbreaking website redesign and the driving factors that made them take such a unique approach to the user experience.
TOPICS INCLUDE:
How do we listen more, rather than overwhelm families with information?
How do we create a site that literally learns and adapts over time?
How do we create different pathways to knowledge, respecting the fact that different people learn in different ways?
What feedback has been given since the site launched?
How did Finalsite's Advanced Search enable the redesign?
Join us to learn more from this inspiring and forward-thinking team!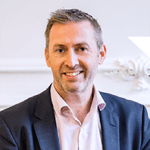 ABOUT DAVID WILLOWS


Dr. David Willows is Director of Advancement at the International School of Brussels, Belgium. He is considered a leading practitioner in the field of advancement and continues to be involved in several global network organisations helping to shape and define the future of the learning business.
ABOUT SUZETTE PARLEVLIET
Suzette is Communications Manager at the International School of Brussels and is responsible for communication strategy, branding, web design and multimedia. In November 2018, Suzette and her team lead the development and redesign of their cutting edge website.