LIVE WEBINAR | WEDNESDAY, 11 SEPTEMBER @ 10:00AM GMT+1
Marketing, communications and admissions often exist as disconnected pieces of a puzzle and it doesn't have to be this way!
Join Niccola Scott, Head of UK Sales, as she explores how, with the right marketing tools and techniques; you can align your strategies in order to create a simple and effective admissions process for both prospective families as well as your marketing, communications and admissions teams.
In this webinar you'll learn:
How your school's homepage will immediately answer the basic questions prospective parents will want to know.

How to capture data, what to do with it and how to use it effectively.

How to communicate from a single place to engage with prospective parents, current parents and alumni.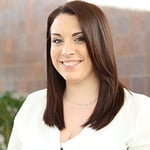 Nicki Scott has 10 years of experience working in technology and software in the education sector. Working with Independent schools, she's gained invaluable experience and appreciation of how software can complement the important processes used to ensure schools are delivering value.